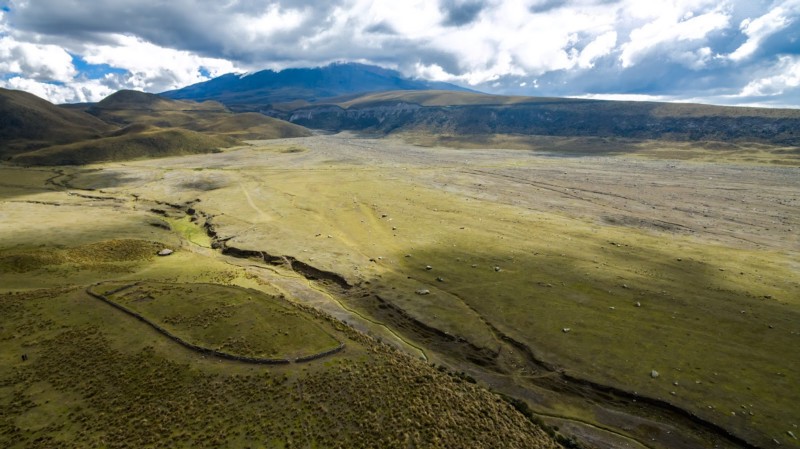 The landscape of Ecuador is littered with archaeological sites, important evidence of the country's rich, complex history that spans from Paleoindian times all the way through to the Spanish conquest of the Incas. But a lack of resources means that there is still no accurate record of many of these sites. Documenting archeological sites through traditional methods is slow and labor-intensive, and with natural disasters and human development threatening to damage many of the country's important sites, archeologists who seek to study and preserve Ecuador's history are often in a race against time. Drone mapping provides a fast, accurate and noninvasive way to document archeological sites, creating a historical record of a country's cultural heritage and giving archaeologists a rich set of data and models to be used for further research.
In 2013, in an effort to demonstrate that drone mapping technology is a viable solution in the field of archeology, Benoit Duverneuil founded the research group Aerial Digital Archeology and Preservation. Benoit originally studied history, geography and cultural administration before eventually obtaining a Master's Degree in computer science and embarking on a career in computer science and data analysis. Since 2010, he has combined his loves of history and technology by experimenting with drones at archeological sites around the world. The Aerial Digital Archeology research group aims to further the field of drones in archeology and train others to implement the latest techniques. Along with his research, Benoit also teaches drone technology to both college students and archaeology professionals.
With team members Dorian Roque, Justin Grabenbauer and German Molina, Benoit recently embarked on a project to record three endangered sites in the Cotopaxi Province of Ecuador. The group's work has shown that drone mapping is an efficient method for creating high-quality maps and 3D models of archeological sites.
Mapping the Pucará of Salitre
Built toward the end of the expansion of the Inca empire, the Pucará of Salitre is the site of Inca and Pre-Inca fortress ruins — a series of manmade terraces, ditches and walls built in a concentric circle atop a hill. The biggest concern for archeologists is that this hill is located on the Northern slope of the active Cotopaxi Volcano. The volcano is classed as one of the most dangerous in the world, and based on its history, it is due for another major eruption. If this happens, there is a good chance the large glaciers located on the volcano's flanks will rapidly melt, causing mudslides that could damage or completely cover important sites like the Pucará of Salitre and sixty-seven others that have been identified in the region. Benoit and his team members realize that if they don't work quickly to create maps and models of these sites, then a record of their existence could be lost forever.
Of the endangered sites in the region, the group chose to first focus on documenting the Pucará of Salitre and two other, more modern historical sites. They hope that this small project will demonstrate the possibilities of drone mapping technology and ultimately allow them to scale the project with the help of Ecuador's Ministry of Culture. Long term, their goal is to train local archeologists in the use of drone mapping technology and empower them to help digitize thousands of archaeological sites in a large database that will be made available to the scientific community. In addition to this database of records, they intend to use high-resolution maps and 3D-printed models to bring archeological sites to life for the public. By creating a greater public awareness, they hope to help minimize the looting that often takes place at historical sites and also promote responsible, less invasive tourism.
"We're excited about the opportunities that are available. We can create models and visualization of the data that are very insightful to professionals. Also, we can record something that might get lost at any time and provide testimony for future generations." -Benoit Duverneuil
To map the Pucará of Salitre, the team used a DJI Inspire, equipped with a Zenmuse X5R camera, as well as a FLIR thermal imaging camera. They flew the 4.21-acre site at an altitude of 100 feet. Because no Wi-Fi was available in the remote location, they used DroneDeploy to pre-plan their mission. Once on site, they captured 181 pictures, including manually captured oblique imagery. They uploaded the images to DroneDeploy to process the map, which they then used to produce a set of data and models.